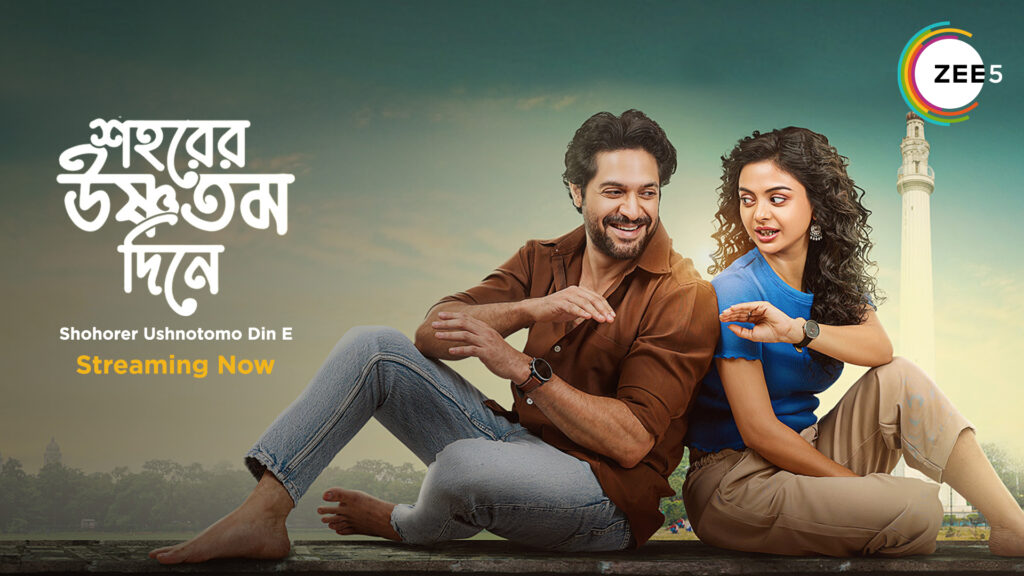 Global, 12th August 2023: ZEE5 Global, the world's largest streaming platform for South Asian content,
announced the World Digital Premiere of its newest Bengali title Shohorer Ushnotomo Din E. The film
stars Vikram Chatterjee, Solanki Roy, Anindya Chatterjee, Rahul Dev Bose, Debopriyo Mukherjee,
Anamika Chakraborty, Debesh Roy Chowdhury, and Sujoy Prasad Chatterjee in pivotal roles. Directed
and written by Aritra Sen and produced by Parambrata Chatterjee, the romance drama is streaming
now on ZEE5 Global.
Sohorer Ushnotomo Din E portrays two Kolkata-raised individuals, Ritoban and Anindita. They get a
second shot at their unrealized love when Ritoban, a disenchanted PhD student in London, returns to
Kolkata after three years unexpectedly meets Anindita, now a successful RJ and his former college
sweetheart. Both reflect on the ideal life they had envisioned before a tragic incident disrupted their
plans. As they reunite, their past passion reignites. However, life takes an unforeseen turn when a new
opportunity arises for Anindita in London. This film is a tribute to a city often considered 'fading,' yet
holding within it numerous unfinished love stories that got lost in the pursuit of dreams.
Archana Anand, Chief Business Officer, ZEE5 Global, said, "Our Bengali library is a rich repository with
stories ranging from love, and drama to comedy and thrillers that greatly appeal to viewers. ZEE5 Global is
proud to partner once again with Parambrata Chatterjee to bring a wholesome story of love and life
with the World Digital Premiere of Shohorer Ushnotomo Din E, which will offer our viewers an incredible
cinematic experience."
Producer Parambrata Chatterjee added, "Shohorer Ushnotomo Din E depicts a very modern and
universal romance that sheds light on how reality can break a relationship and also grant it a second
chance. This is a project very close to my heart as I got to work with extremely close friends which is well
reflected in the chemistry of the film. While the movie has received a lot of love and appreciation from
theatres, I can't wait to see ZEE5 Global take the film to a global audience. I am confident the
universality of the movie's story will strike a chord with the audience."
Viewers can catch ZEE5 Global's unmissable slate and stock up on their yearlong entertainment by
availing of the limited period Annual pack 50% discount offer.
Users opting for the monthly pack can apply coupon code FIFTYZEE5 to avail 50% off on their first
month.
Get ready to watch 'Shohorer Ushnotomo Din E' exclusively streaming now on ZEE5 Global!
About Author