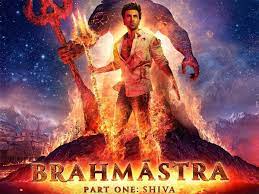 A Visual spectacle laced with beautiful storytelling. The VFX makes you feel like it is a step above Hollywood films, the beauty of love, light and powers beautifully narrated. Some fantastic moments, easter eggs, and the biggest extravaganza that you'll experience in a while. The long queues outside the cinemas are justified and rightly so. The cheer at the king's entry, the audience on the edge of their seats, right until the end, and waiting through the credits – in a tightly packed cinema hall, though there is no post-credits scene. A beautifully made film, never seen before in this industry. A right amount of love, story and action blended with cultural fiction.
Amitabh Bachchan, SRK, Ranbir, Alia, Nagarjuna, Mouni Roy, and some right surprises await. No spoilers. Watch it for yourself.
The background music has its own charm, the Sanskrit shlokas, the story is carried on the shoulders of love and music, and the audience is entirely in love with the magic of Brahmastra and Kesariya alike. A theatre experience after a long time.